Cus­tomer loyalty through VELUSJET®
What makes the hydrojet a per­fect addi­tion to gym equip­ment? Com­pe­ti­tive ath­letes or even fit­ness enthu­si­asts who prefer a gentler workout will feel the strain on their bodies and mus­cles in addi­tion to the ath­letic effect. Give your cli­ents an oppor­tu­nity to enjoy a con­scious time of rela­xa­tion after their workout to increase the trai­ning effect and pre­vent muscle injuries.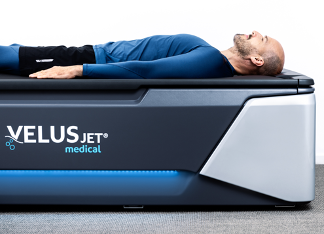 Our tip: The VELUSJET® with voice output is par­ti­cu­larly popular as a hydrojet solu­tion in fit­ness stu­dios. Ope­ra­tion is intui­tive and fun! The ope­rator is also happy because his cus­to­mers can use this hydrojet wit­hout fur­ther support.
ACQUI­RING NEW CUS­TO­MERS IN GYMS WITH THE HYDROJET
Offer the hydrojet mas­sage expe­ri­ence to your gym cli­ents as a monthly sub­scrip­tion or with cards of 10 uses each and use our smart cards or RFID cards for equip­ment con­trol and bil­ling. Create an addi­tional incen­tive to attract new cli­ents who are going to stay your loyal cus­to­mers in your gym in the long term with this add-on to the VELUSJET®.
The hydrojet mas­sage table VELUSJET® can be per­fectly inte­grated into your fit­ness studio. Whe­ther with your own bil­ling system, the inte­gra­tion of exis­ting sys­tems such as Gantner, or even a classic coin machine — there is always a solu­tion that suits your requirements!
simple and wit­hout obgligation
Please contact us if you have any ques­tions about the VELUSJET®.
Park­hotel Bie­le­feld Milser Krug
Phy­sio­the­rapie Wiesenhof
If you want to use the most reliable
device on the market as well, we shoud talk