MAIN­TEN­ANCE AND SER­VICING OF A HYDROJET
Do you have any pro­blems with starting your hydrojet or does your mas­sage bed dis­play an error mes­sage? Let us show you what to do – from iden­ti­fying the fault to cont­ac­ting the hydrojet service.
Advance notice: We can help and sup­port you with ser­vice, no matter of the brand of your hydrojet mas­sage bed!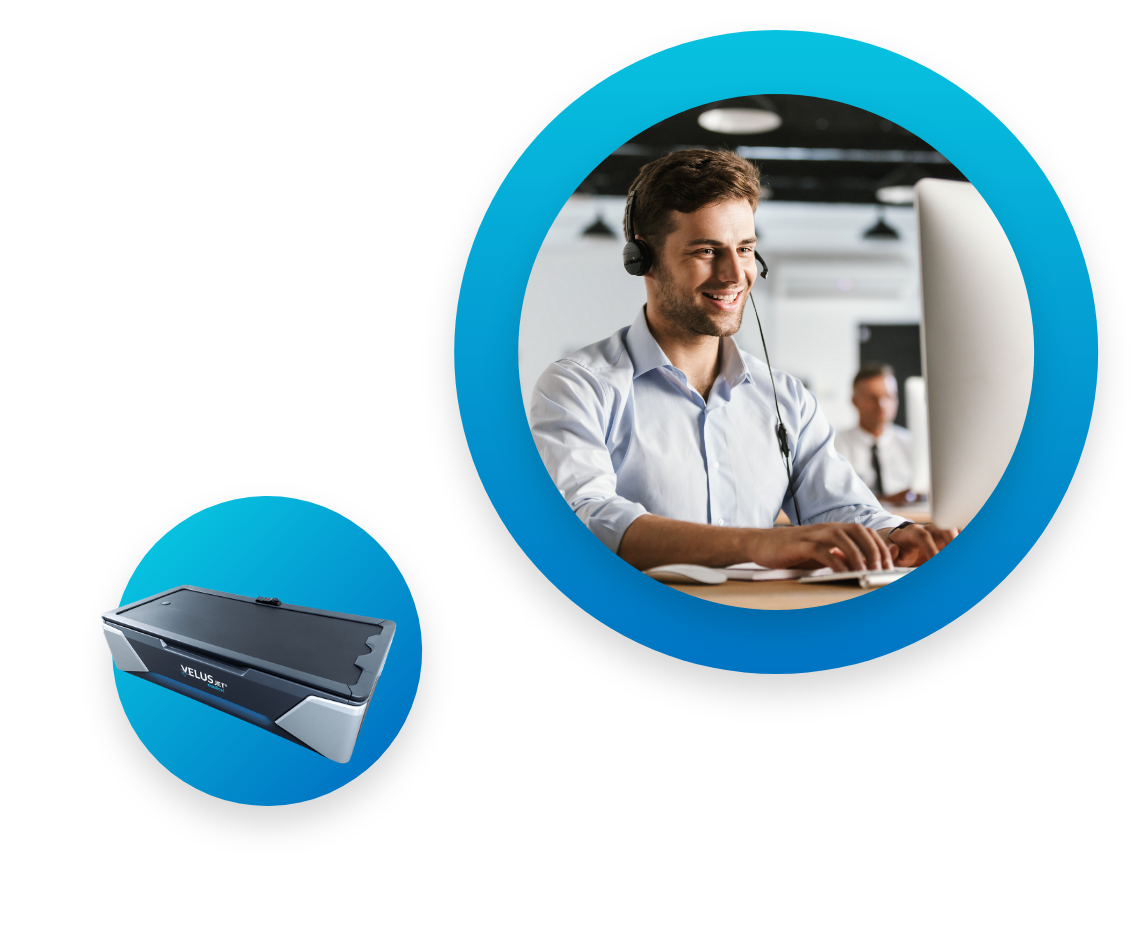 MAIN­TEN­ANCE AND SERVICE
PROPER HAND­LING OF A HYDROJET
Make sure that all regular main­ten­ance steps have already been per­formed when you call for ser­vice to have a hydrojet mas­sage bed repaired. The ser­vice team may be able to fix your issue wit­hout doing any­thing else!
MAIN­TEN­ANCE AND SER­VICE: DAILY CARE OF THE HYDROJET MAS­SAGE BED
The first step of the hydrojet ser­vice is to che­cking the con­di­tion of the mas­sage bed. This includes:
che­cking the power connection

loo­king for mois­ture in the imme­diate vici­nity of the hydrojet

quickly wiping down and dis­in­fec­ting the lying surface
MAIN­TEN­ANCE AND SER­VICE: VEN­TING THE HYDROJET MAS­SAGE BED
The hydrojet should be vented by ser­vice, in par­ti­cular if increased noise is occurs during mas­sage. The VELUSJET® series has a valve on the top of the Hydrojet mas­sage bed for easy ven­ting. Air can be pushed out slowly and carefully there.
Notice: VELUSJET® puts par­ti­cular emphasis on a secure seal bet­ween water and elec­tri­city. Ide­ally dis­con­nect the device from the power supply for main­ten­ance anyway.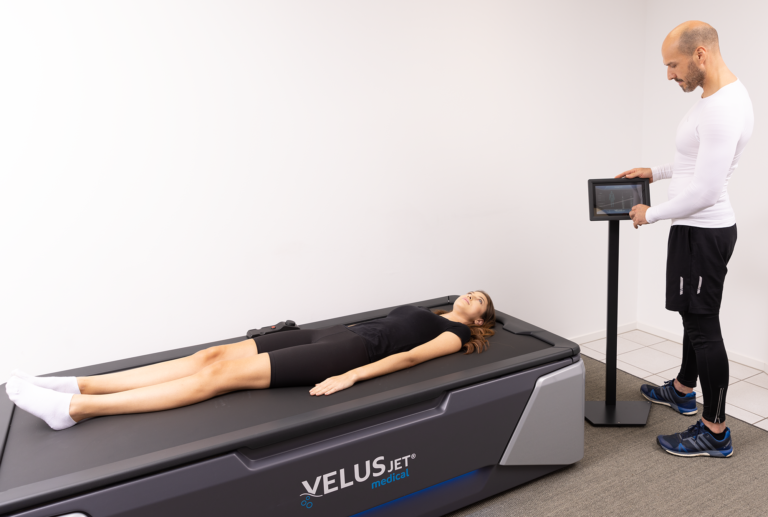 SIMPLE AND WIT­HOUT OBLIGATION
USING THE HYDROJET SER­VICE HAVING YOUR MAS­SAGE BEDS SERVICED
If your Hydrojet mas­sage bed is run­ning con­ti­nu­ally, it will pro­bably be ope­rated with a coo­ling system – or at least it should be. That system should also be che­cked for defects if any issues occur. Down­times may result if the bed heats up too much in per­ma­nent ope­ra­tion. Planned mas­sage tre­at­ments may not be pos­sible in this case, which may cause tur­nover loss.
Advice: Our VELUSJET® are equipped with auto­matic tem­pe­ra­ture moni­to­ring and a number of dif­fe­rent coo­ling options in order to avoid this issue in con­ti­nuous ope­ra­tion. The "Smart Coo­ling" func­tion ensures con­stant ope­ra­tional safety.
Main­ten­ance and ser­vice: water change at a Hydrojet mas­sage bed
The Hydrojet mas­sage bed holds more than 300 l of water. It is filled by ser­vice before initial com­mis­sio­ning and usually has an addi­tive added to keep the liquid germ-free for years. However, it is pos­sible that the water may con­ta­mi­nate over time, e.g., due to abra­sion. Then – or at the latest when the substance's effect is waning – the ope­ra­ting water should be replaced.
It is better to leave this task to the Hydrojet Ser­vice – ide­ally in the scope of maintenance.
Hydrojet ser­vice: error ana­lysis on the computer
If your model can be soft­ware-ope­rated (e.g., the VELUSJET® Plus Advanced or Pro­fes­sional), the LAN con­nec­tion of the Hydrojet can be used for quick and cost-effi­cient error ana­lysis. Issues can be dili­gently tra­cked and removed this way.
REQUES­TING THE HYDROJET SERVICE
HAVING MAS­SAGE BEDS SERVICED
It's time to call the ser­vice depart­ment if your hydrojet is no longer working or shows any issues. Do not hesi­tate to contact us for this pur­pose: No matter if you own a VELUSJET® or any other brand: we'll make sure a ser­vice repre­sen­ta­tive is at your loca­tion to take care of your equipment!
"MY HYDROJET KEEPS GIVING ME PRO­BLEMS IN SPITE OF THE SER­VICE. WHAT CAN I DO?"
Even the best ser­vice may not be able to help, depen­ding on the model of your hydrojet. That is why you should pay atten­tion to the qua­lity of the mas­sage bed already when you buy it.
Unfort­u­na­tely, it can often be che­aper in the long run to buy a new, better model than to have your old one repaired time and time again. Con­sider chan­ging brands if you keep having to call the Hydrojet service.
After all: Good qua­lity = Low maintenance.
Advice: We at VELUSJET® will: dis­pose of your old device no matter the brand if you choose to replace it with a VELUSJET® model.
WHY THE VELUSJET® NEEDS SER­VICE BUT RARELY:
Two pumps: Each nozzle being sup­plied by a dedi­cated pump is reflected not only in the mas­sage per­for­mance. It also keeps stress on the tech­nical parts low.

Metal: The mate­rials of the nozzle tech­no­logy are robust and long-lived.

Pro­tec­togen keeps the pro­cess water free of germs for years. The VELUSJET® series is manu­fac­tured in our own fac­tory – we pay atten­tion to the qua­lity of every millimetre.

We per­form an exten­sive test run on each device before deli­ve­ring it to ensure its quality.
OTHER HYDROJET MAS­SAGE BEDS
One pump: That one must supply all nozzles – cause a higher load and also lea­ding to greater main­ten­ance requirements.

Plastik: Die Werk­stoffe halten der Belas­tung nicht so leicht Stand und kommen schnell zu Schaden.

The lack of addi­tives in the water auto­ma­ti­cally ren­ders main­ten­ance more frequent.

Out­sourced pro­duc­tion leaves room for error.

In some cases, devices are only che­cked on a random basis.
THE OLD-EQUIP­MENT SER­VICE FOR HYDROJETS
Our "old for new" cam­paign has been dis­po­sing of our cus­to­mers' old equip­ment for years when they buy a VELUSJET® – no matter the brand of their old hydrojet! We will recycle the indi­vi­dual parts pro­perly so that no hazar­dous waste is produced.
Your advan­tage? We offer the dis­posal free of charge!
SER­VICE AND MAIN­TEN­ANCE FOR HYDROJET MAS­SAGE BEDS:
Ser­vice should make sure that the neces­sary main­ten­ance steps have been per­formed first of all if your Hydrojet mas­sage bed is showing any issues.

If mere main­ten­ance by Hydrojet Ser­vice does not help, the device pro­bably requires repairs, e.g. by repla­cing wear parts.

If you keep having to call the Hydrojet ser­vice number all too often, you might want to con­sider a repla­ce­ment. We will be happy to advise you on your options – and dis­pose of your old device.
TEST THE VELUSJET® FREE OF CHARGE AND IN REAL OPERATION
The VELUSJET® is used throug­hout Germany.
Would you like to pre­cede your purchase decision with a 1:1 test?
Visit one of the faci­li­ties that have been suc­cessfully using the VELUSJET® for years. You are going to love it
Call us. We will hap­pily advise you and find a sui­table refe­rence for you.
If you want to use the most reliable
device on the market as well, we shoud talk
Are you inte­rested in our VELUSJET®?